Todmorden Cricket Club

Todmorden Cricket Club
Est. 1837
News Report
5 minutes with AT
Author: Todmorden CC, 02/04/17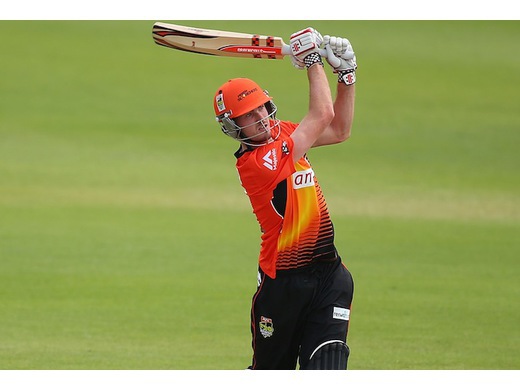 It's safe to say the season back home has gone pretty well on a personal front. Runs in the 4 Day games and winning the BBL with the Scorchers….
"Everyone who has ever played a team sport will tell you that winning trophy's is the ultimate goal. So for me to be able to win another BBL title has made my 2016/17 season a success.
I love the excitement of T20 cricket but 4 day cricket is my favourite format. It's takes more than just skill to have success and I've been lucky enough to hold a regular spot in the Western Australian side this season. It's been a breakout year in first class cricket for me and a very satisfying feeling to be able to contribute to the success of our team."
Going to have to ask you the obvious question. Getting the T20 call up for Australia must have been unbelievable. Can you describe your emotions once you found out?
"The news that I had been selected to play for Australia was extremely unexpected. It's hard to describe the feeling but I can remember having a grin from ear to ear all day after getting the news from Justin Langer.
It might be hard to believe but the journey from wearing a TCC shirt at Centre Vale to wearing an Australian shirt at the MCG is not that far!"
With only a couple of rounds of the season to go, I can only assume the golf course is going to take a hammering….any other plans?
"I would love to be able to report that I'm planning a golfing trip around the world this off season but the unfortunate news is that it's extremely likely I'll be going in for a shoulder operation. 6 weeks in a sling and 6 months rehab or a golfing trip around the world, I know where I'd rather be!"
Coming back to TCC, any reflections on last years performance? Any stand out moments? Both as a team or individual?
"Having the opportunity to play for Todmorden is something that I'll always be grateful for. The conditions are so different to the ones that I've grown up playing in but that's what made the experience so valuable for me as a cricketer.
Looking back on my season with TCC, most of my highlights aren't cricket related. I loved the people and the town and I've made memories that will last a lifetime."
You obviously dominated against the pink ball for TCC, guiding us to the Final. Must have been a major positive to come from your trip over here…..
"Probably my only regret is not being able to get more runs in the final. The T20 is a great competition and being able to see the thrill that the players and the members got out of watching us make a final is something that I'll always remember."
Obviously the League is having a bit of shake up this year. I know you only had limited exposure to the league but did you like the format or do you think the change is good?
"It's an interesting question and something that is very hard for me to comment on. The difference between Australian pathways and the English system is so different. All I will say is that there is so much history with the Lancashire League and all of its clubs, so I would hate for any of that to change."
Contenders for the Titles this year?
"There's no point turning up for Round 1 if you don't believe you can win the League. There's amazing talent at the club and if everyone believes in themselves and their team mates there's no reason TCC can't add another trophy to the cabinet."
Quick Fire Section
If you could have dinner with one TCC member, who would it be?
"Can I have a dinner party with everyone? Nev because he can spin a great yarn. Heath, because I love winding him up about everything Australia has ever achieved. And if it was a Saturday, it'd be a pub dinner date with Freddie before Monty's opens!"
Favourite TCC memory?
"It's a toss up between beating Burnley in the T20 semi final and my last night at the club."
Favourite moment on any cricket field?
"Walking out to bat at the MCG in my first game for Australia. I had about 10 of my closest friends and family fly over to Melbourne from Perth to watch."
Best team you came up against for TCC?
"I think, Burnley."
Best amateur player at TCC?
"Tino (Martin Harlow) didn't have his best season but showed glimpses of real class."
Best player you came up against in the Lancs League?
"Daryn Smit is a very experienced first class cricketer and has played lots of club cricket in English conditions."
Best performance you've seen in a TCC shirt?
"Elliott Gilford got 90 in a game and I've never seen someone hit the ball so well over cover."
Apart from Centre Vale, favourite Lancs League ground?
"Can't remember!"
If you could change one rule in cricket, what would it be?
"More runs for a boundary, encourages aggressive cricket."
Thanks for your time, Ash. Keep up the good work back home! #WACAWizard

Follow the site to get the latest news and results straight to your email
Next Match
JW Lees Lancashire League
28/07/18 01:00 PM