Todmorden Cricket Club

Todmorden Cricket Club
Est. 1837
News Report
Good Evening, Mr President....
Author: Todmorden CC, 05/03/17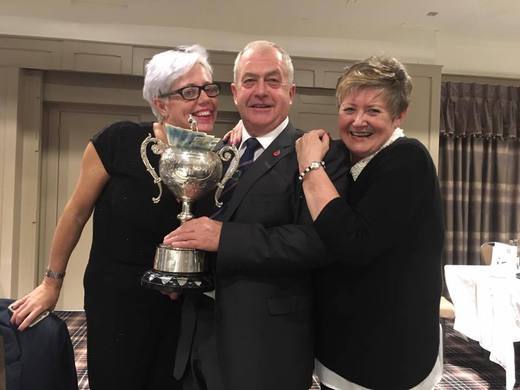 We thought we would ease Nevil into it, so we gave him a gimme....how has your winter been, kept yourself busy?
"The square was put to bed within a week of the season ending, so Centre Vale was ready for winter really early. I must say without the help and drive of Bill Storey this would have been impossible…so thanks, Bill!
I've been on a couple of ventures onto the Continent. I had a break in Malta, having never been. Whilst there I visited my Great Uncle Walter's war grave in Pieta CWG Cemetery. He was one of the original Tod Pals (Lancs Fusiliers) and wounded at Gallipoli in the Great War, then moved onto Malta as it was a hospital island where he died of his wounds. A sneaky trip to the Algarve with the skipper is also planned, as well as a battlefield tour to Ypres, before the season begins.
Other than that, we then had the beer festival, another very busy and successful week for those involved. More importantly though, I watch Burnley home games on't Turf and at the moment they are doing remarkably well so cannot complain!"
You have been elected as President, the highest profile presidential winner this year obviously, what's your reflections of being given this honour?
"I obviously knew Betty's term was coming to an end but it was a surprise to me when the chairman wandered onto the field in November to offer me the presidency after a committee meeting.
I was not expecting it at all, so did not readily accept, as my first reaction was that there were other more deserving candidates at this time. When I sat and thought about it I remembered my older contemporaries and close friends who have held the position, club stalwarts and great servants, like Norman Stansfield, Richard Crossland, Ken Sutcliffe, Bob Brierley, and of course Malcolm Heywood. Further back than that I recall Alfred King jp, (who I believe was the instigator of the club buying the ground before Calderdale got their hands on it, where would the club be now without that bold step!) and ex great player Harold Dawson.
So to accept and be alongside such luminaries was then easy and a privilege. I do think that being the youngest of what you lot call affectionately "fossils" the idea is I can hopefully gel the old 'uns to the new ways and challenges the club faces in these times. Watch this space!"
Having been head honcho of the Ground Staff over a number of years, does this mean you will be spending even more time on the ground?!
"When 'we' started looking after the ground there was no hierarchy, but by the same token there was a few more of us than now. Over the years people have gone to the great pavilion in the sky, become infirm, and the production line is not as prolific as it once was. I do however think it would be impossible to spend more time on the ground, unless I lived there!"
Speaking of Centre Vale, it is a beautiful ground, many opposition teams see it as a highlight of their season playing here. You must take great pride in making so attractive as well as having County 2nds/high standard games played on it every year…?
"It is very gratifying to see the ground on a lovely sunny day in summer, the vista is fabulous. When all is cut and trimmed it is very satisfying. It is fabulous that so many people like and comment too.
Richard (Crossland) and I took a more scientific approach when we took on the task and went on numerous courses and seminars. We persuaded the club to join The Sports Turf Research Centre at Bingley and along with one of their agronomist experts we undertook a long term strategy of improving the square as the club could not afford to dig up and relay 12 pitches. This soon started to show improvement, and hopefully continues now.
It is particularly gratifying when professional cricketers from both league and county clubs take the time to have a positive word. The county games are getting harder and harder as our band of volunteers age and decrease, but we still enjoy watching county and international games on telly counting the players who have played on Centre Vale."
Cricket wise, any reflections on last year's performance?
"Last years performance was a little disappointing early in the league season, we were not too far away but lost too many early games as Ashton seemed to struggle with the red ball. The T20 was different story completely and seeing Ashton's innings at Burnley as well as his performance at home to East Lancs was most enjoyable. Matt Collins also impressed in his debut season."
Expectations/hopes for this year's campaign? Players to look out for?
"This year I think it could be the reverse as Kelly I feel will perform better in league than T20, as he will bowl steadily, and not be too cavalier batting.
Seeing how Hamza has improved will be an interesting watch and hopefully Benjamin will do better after his experience opening last year.
I am most looking forward to a drier, warmer summer; it is getting more difficult as the years go by dragging covers about."
Ashton Turner obviously dominated against the pink ball and a quality bloke, similar expectations from Kelly Smuts?
"Ashton was terrific as a pro, effort in the field, practice, socialising, and attitude with the kids was top drawer. Ticked all the boxes, but just a shame more league runs were not forthcoming.
South Africans generally tend to be a little quieter and more reserved than Aussies, but Kelly has been over here for a few years now and knows what goes on, but I will be pleasantly surprised if he is a Montys man! I'm sure his on field performances will be good."
Obviously the League is having a bit of shake up this year…
"I think it was inevitable that the league had to develop and it was personally frustrating when the LL dismissed out of hand a merger with the old CLL, then panicked into trying to get clubs from too far away to join. Hopefully what is happening now will prove beneficial, it's just to be hoped we are always in the same division as Walsden!"
In light of the new competition, who are the contenders for the titles this year?
"Ramsbottom will take some beating again, so they will be up there. I think Lowerhouse will be up there after a quiet year last year and I have a feeling Enfield may challenge this year as well."
Quick Fire Section
Who's been your favourite pro?
"Darryl Bryan Scott has been my favourite pro. Being of a similar age group I socialised with him a lot, but was not on my own, it was a fantastic 2 year party!
He wrote to us asking to be pro, was reasonably priced, almost did the double each season, and generally if he failed with bat he did it with ball & vice versa. He was a brilliant fielder, it was Ibby's debut season and Darryl covered the school end single handed, taking some terrific catches. Ask The Sheriff!
We finished runners up in both league and cup both seasons, so perhaps there was something lacking in his makeup as to why he never made much of a first class cricketer?! A smashing lad though, typical Aussie…"
Favourite TCC memory?
"Andrew (Sutcliffe, his son & now Club Captain) making his first team debut. It was also that season Nigel giving him a bowl and I remember he bowled Graham Knowles round his legs, who stood there in disbelief!"
Favourite moment on a cricket field?
"Watching Michael Vaughan hit 183 at Sydney, New Year test 2003. England won in Sydney for first time in a while and Andrew and I were there all five days. Then being recognised along with some folk from Walsden by Andy Bichel on the lap of honour."
Best amateur player you've seen play for TCC?
"Richard Baigent. Oozed class as an amateur, his driving square of the wicket was a joy to watch."
Best Amateur/Pro you've seen play against TCC??
"Best visiting amateur for me David Pearson (East Lancs) in his pomp, got a ton on Tod regularly."
Best performance you've seen in a TCC shirt?
"Best performance for Tod for me was Brendan Nash & Baige in their record stand in 1999, I think against Rammy, exquisite."
Favourite player in the current side?
"I'm biased, the skipper. If everyone had the same appetite for it we would be better. And he makes a mean fish dish."
Apart from Centre Vale, favourite Lancs League ground?
"I always enjoy going to Rawtenstall. I suppose Rammy is the second best field, but I don't really enjoy going there, personally."
If you could change one rule in cricket, what would it be?
"I would stop impromptu drinks breaks! One break per innings only, that's it. Players running on and off, interrupting the game drives me bonkers!"
Thanks for your time Nev & hopefully the players will produce the goods for you this season!
Follow the site to get the latest news and results straight to your email