Todmorden Cricket Club

Todmorden Cricket Club
Est. 1837
News Report
Good evening, this is your Captain speaking...
Author: Todmorden CC, 19/03/17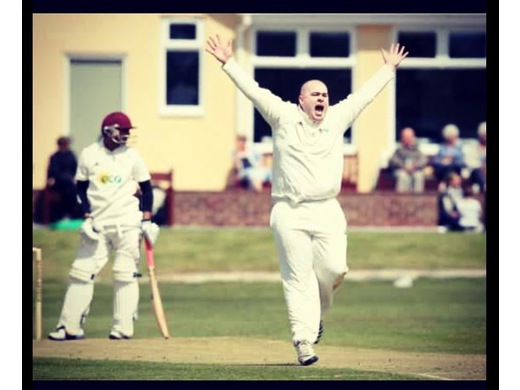 It's safe to say your winter has been fairly quiet...?
"It has been my busiest winter since being skipper. Whilst most people involved with cricket have a rest and 'switch off' at the middle of September last year I had to switch on as I had an exam relating to my job & profession in October. Thankfully I passed and I am now a member of the Royal Institution of Chartered Surveyors. Job done! Following that I went to Belgium a couple of times to celebrate and let my hair down and then I had a very enjoyable Christmas with the Mrs, my family and friends.
At the start of 2017 I accepted a new job offer, I start mid-March and I am looking forward to getting going. I had a month off in between jobs and I took the opportunity to unwind by venturing to Madeira with the Mrs, Hungary with a couple of mates and Portugal with my dad. It was a good month!
I also set myself a brief to lose some timber over the winter so I am currently spending a lot of time avoiding the gym. I am a season ticket holder at the mighty clarets too so I have spent a few Saturdays on the Turf. UTC."
You have been re-appointed captain again this year, it is obviously a job you cherish doing……
"Yep, I love it, 99% of the time. I really do enjoy being skipper at Tod, I love the club.
This season will be my seventh in the role after taking over from Newbs (Simon Newbitt) in May of the 2011 season. It was a super proud moment for me when I was appointed captain. I have my official letter of appointment from the club, framed at home on club letter headed paper.
I take the role very seriously and I like to think I give it my best on and off the field, I put a lot of energy into it. We all make mistakes and can never be right all the time, I learnt that quickly when I became skipper. I like to think the decisions I make on and off the field are for the good of the club and I hope people see it that way too.
I see being skipper of Tod as a privileged position to be in. I think that comes mind set comes from stories my Dad tells me. When he was a kid he used to go and watch Tod play with my Grandad and they used to sit on the back benches as it was cheaper and their used to be an area on the club where only members were allowed past a certain point, remarkable! I wish my granddads were around when I was appointed skipper, I think they would have liked that! I like to think they sit 'up there' at the weekends in the summer with a pint and look down with a smile."
Has the role changed over the years whilst you have done it? Have you changed?
"On the field, no. Off the field, yes. I think that stems from a lack of volunteers at times. When I was captain at the start you went to training, went to selection and played games, a lot more things were done for you off the field than now. I have to get my hands dirtier now.
Now, I am currently the club's league representative and the Cricket Chairman of the club as well as skipper which I really enjoy but it takes up a lot of thinking time. I don't think I am out of order by saying that the cricket section of the club had not had the attention it required from the juniors right through to the seniors for far too long. That is not being critical, I think it was because a lot of the people in the back ground were not ex cricketers so their thought process was different. That was definitely something I wanted to try and change when I became captain. I have worked closely with ex-chairman Stuart Parker and current chairman Mark Clayton and the cricket committee over the last 6 years or so to try have more of a cricket focus at the club and I think we have been pretty successful at that to date.
Have I changed? Yes. For the better."
Reflections on last year's performance?
"1st XI wise we finished 6th in the league which was our third year in a row where we improved our league position, and we got to the final of the T20 which we sadly lost. At the start of the season I thought there were 3 stand out teams and then we were one of a handful of teams that could have finished 4th if we had a good year, we were lacking on runs in the league and Ashton should have scored more really. If that happened I suspect, we would have hit our target to continue our progression as a side. We recruited well last year, with Collins & Lalor settling in well as our experienced bowlers. They are excellent acquisitions for the team and Matt Collins' consistency with the ball was the key to a lot of the games we won.
The stand out. The T20 last year will be something all our players and members will never forget. We didn't win it but the performances of our pro Ashton Turner were unbelievable and a joy to watch! If only we played league cricket with pink balls last year!
The highlight. The two's won the league which was an amazing effort, the club hadn't won a trophy, other than the Ron Singleton, since 2000 and it was a great achievement. Our senior spin twins of Doyle & Ali led the way……can I roll the clock back and have them two as twenty-five-year olds in the first team please!
Our 3rd XI were a joy to watch last year, it was the first year we had re-entered a team following four years out due to lack of youngsters and general numbers which was worrying at the time. It was a very positive step for the future of our club. The average age of the team was 16 or 17 and the skipper is in his thirties! This was the most important thing to happen last season."
Any expectations or hopes for this year's campaign?
"I am just looking forward to getting on the field and playing cricket with my mates, it is great fun and that is why we do it. This year I am expecting us to again improve on last year's league position, we haven't recruited anybody but more importantly we haven't lost anybody for the first time in a long time to give us continuity! We have a good base and we know each other well after last season, we have signed a top pro so let's hope it is a good one for us.
Player to look out for in the 1st XI – Martin Harlow. He joined us from Walsden for the 2016 season and he took 70 wickets! Last year he was carrying an injury nearly all year that a lot of people probably didn't know from the edge and he didn't hit the heights of 2016, he is fully fit now and I am expecting him to come back with an impressive return this year.
We have a couple of youngsters to watch out for at the club too, I am hopeful they will put in some serious performances for the 2nd XI this year and create competition for places on the 1st XI."
Ashton Turner obviously dominated against the pink ball and was a quality bloke, any comments on him?
"Ashton Turner, what a guy! When you sign a pro you try and do as much due diligence as you can and we did a lot on Ashton that he probably wasn't aware of. We got exactly what we wanted and more.
Ashton was the heartbeat of the club last year from the moment he arrived, he was excellent around the club, the best we have had at that in my career. He didn't keep himself to just the players, he got involved with all the members and spoke to them all. He got involved with the juniors, coached the U17's each week and let the kids use him as a jungle gym in the bar on a weekly basis. His fielding sessions with the seniors nearly had me spewing at times but they were great fun, I have never covered as much grass on the field but that doesn't say much. He spent a fair bit of his wages behind the bar too so he didn't cost us much in the end. Ash wanted to travel whilst he was here so we had a team trip to Amsterdam during the summer, it was a great few days.
Ashton gave a very touching speech in the bar at his leaving party and he gave out some presents to some of the members who he recognised had volunteered a hell of a lot of time in order for him to get paid to play at the club, it was a classy act. He said in his speech that he had made friends for life and that he came to England as a one club man (his beloved Freemantle CC back home where he is the skipper) but he left very much a two club man with Tod close to his heart and that when he had his own family he will return one day. I believe him! He helped me enormously last season and I will never forget that as you don't always get that from a professional. A friend for life. Cheers Ash."
Obviously we have signed Kelly Smuts for this season. We have come across him before but what are you expecting from him?
"I am expecting a lot from Kelly and I am looking forward to his arrival. He is well known to the league and our players and we know what we are getting. The team needs a mature head and Kelly will give us that, the team needs runs and he should give us that as he scored over a thousand runs two years ago at Rishton. Kelly will also be a strike bowler for us, he will be able to win a match with bat or ball. I think we have one of the best professionals in the league this year, if he delivers we will be a tough side to beat."
As you have previously mentioned, you are the League Rep for TCC so have been involved in passing on information in regards to the new Lancashire League structure. What are your thoughts on the change?
"My view is that the structure did need a change and that we are going in the right direction. We have seen from movement around us that simply expanding or merging with your closest league is not just simply the answer for a better league structure. My view is that as a league we need to be very aware of that and not be too hasty in trying to continually expand with extra teams and divisions.
Three clubs have joined for the 2017 season and it looks like a handful more may join in 2018, all seem to be very good clubs that will improve the competitiveness and standard of the league. It is a huge change to the Lancashire League that has been the same for so long, those additions to the league and the difference in the new set up of promotion and relegation needs time to settle in with the players and how clubs operate, it could take a good number of years for it to feel 'normal' and for clubs and players to adapt. I think any talk of going bigger over the next few seasons is extremely premature and for me it would be too much of a leap of faith having seen what has gone on around us. These decisions are not just about the short term.
The biggest concern of mine with the expansion is the rumour mill of brown envelopes and different cultures at cricket clubs, which could result in clubs within the same league not playing off a level playing field. We are all aware that brown envelopes have existed since before we were all in nappies and it is something that is almost impossible to control, I do worry that due to the added competitiveness of promotion and relegation clubs may consider this course of action which is something the league needs to avoid at all costs. I think along with the expansion different rules need to be considered on the player qualification rules and potential payment of players, it is a tough one and one that needs to be debated by the clubs strongly in my opinion. I would adopt the points system so that it is a level playing field where clubs who develop youth, get rewarded."
In addition to that, is there anything TCC can change or, in your opinion, what are the important things the club needs to focus on in the next few years?
"The juniors and an off field training facility. We have moved the juniors on in recent seasons thanks to lots of effort from various people, particularly the coaches and team managers who do a great job. We now have a Junior Head Coach as well as fully qualified team managers for all junior sides. This year we have got two U9's team's which should help keep more juniors at the club past the age of 11 as we are seeing drop offs at ages 11-13. In terms of junior members last year 45% of our juniors were U9 with less up the age groups, like a triangle if you will. We need to continue to develop our structure so that the coaching is better and all year round so that the triangle turns into a trapezium if you will which gives the club a solid stream of young cricketers going forward.
We currently have 65 junior playing members at the club, I think at the moment the three clubs in our league with the most juniors have around 125 juniors but I accept they have a better geographical location and catchment area. We need to keep that number climbing and target 100 junior playing members whist bringing in specialised coaching to bolster what we have already internally at the club."
Quick Fire Section
Who's been your favourite pro?
"I can't pick! A combination of Van Wyk/Du Plessis/Neser/Abbas/Turner would do a good job!"
Favourite TCC memory?
"Faf's fine meeting on his final night! Epic scenes in the dressing room!"
Favourite moment on a cricket field?
"Captaining the side in the 2008 Worsley Cup Semi Final. I was 22 at the time and Jon Henderson the skipper was injured and I was asked to do it. It was a proud moment leading the side out for the first time and we won too!"
Best amateur player?
"Newbs, clear stand out player since I have played. When on song he totally dominates and will break every club batting record going by the time he finishes."
Best performance you have seen in a TCC shirt?
"Two stand outs on the pro front, difficult to pick one. Michael Neser away at Rawtenstall when he destroyed their attack by scoring 191 to break the club record. The other, David Wiese away at Nelson when he smashed 140 in the first innings and then took 8-50 in the second innings. Both were a pleasure to watch.
On the amateur front Newbs away at Haslingden in 2013 was out of this World. They batted first and scored 260, we were set 220 from only 40 overs when rain fell at half time and he was 140 not out in the 36th over as we won the game! He smashed it everywhere that day."
Favourite player in the current side?
"On the field – Newbs. In the dressing room – Gilly (Elliott Gilford). In the bar – Dudds (Ben Sutcliffe)."
Apart from Centre Vale, favourite Lancs League ground.
"Rawtenstall."
Thanks for you time, Sav! Next week, a piece from foreign shores….
Follow the site to get the latest news and results straight to your email
Next Match
JW Lees Lancashire League
28/07/18 01:00 PM