Todmorden Cricket Club

Todmorden Cricket Club
Est. 1837
News Report
In the chair this week...
Author: Todmorden CC, 12/03/17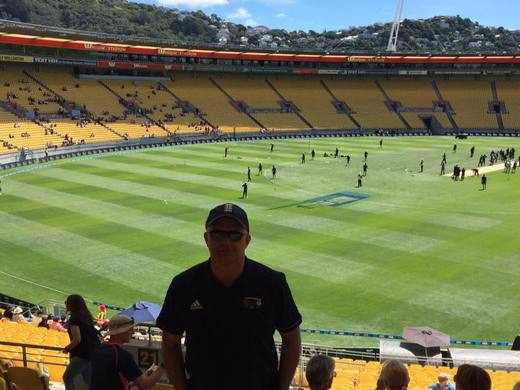 You may work out a common trend with our first question. We need easing in to this sort of stuff this side of the border....
How has your winter been?
"I'm currently in Napier, New Zealand! The skies are cloudless and it's a lovely 25 degrees. Let's hope for a few days like this during the 2017 summer!
It's been a good winter. I've been kept busy with the arrival of our lovely third granddaughter in October. But all the fun is going to stop on my return as unfortunately I'm going to have to tuck into some DIY (which I hate) before the cricket season begins!"
You are carrying on as Chairman this year, happy with the way its going so far? The club seems to be in rude health…
"It's been an interesting first 14 months as Chairman of TCC. We have collectively achieved a lot. I think that the committee and associated helpers have put the club on a much more professional footing. I believe we are much more business like which will hopefully ensure the ongoing sustainability of the club."
What changes, if any, are going to be undertaken in the next 12 months?
"One project that is ready to go, is the upgrade of our caravan site and the work will be overseen by our new President Nevil Sutcliffe. The site is very important to the clubs income stream and we need to ensure that our guests enjoy up to date facilities.
There are not too many other plans for the next 12 months as we have completed a lot in the previous 12 months. I envisage that we will use the things we have put in place to benefit the club and we will steadily build on them throughout the coming years."
Cricket wise, any reflections on last years performance?
"The 2016 season was an extremely positive one for the club. We had the very successful reintroduction of our third team under the captaincy of Chris Barker. The team is very important to the future of our club and it is vital that we give the opportunity of senior cricket to as many of our younger players as possible.
The second team, incredibly, improved on their 2nd place of 2015 by winning the Junior Championship for the first time since 1920. Under the captaincy of Ibra Ali, there was a good blend of youth and experience that helped mould the team together. It's going to be interesting to see how they will go in 2017 as they are going to be the team to beat.
The first team is the team that all players at our club should aspire to be in and we have a very good squad of players that, on their day, can beat anyone. The league performances were good if not spectacular and enabled us to qualify for the 2017 Lancashire Cup. Nevertheless, the highlight was the teams run to the final of the T20 competition, where we unfortunately came up just short against Church at Centre Vale. The competition saw some great performances from our amateur players but it's fair to say that Ashton Turner's performances were outstanding and were a major factor in our success. It should be noted that Ashton has since earned T20 honours for Australia and everyone at the club sends their congratulations!"
Expectations or hopes for this year's campaign?
"I'm extremely positive about the coming season we have some very experienced players to call on for all our teams. I'm looking for some of our younger players to step up their performances still further and push the club forward.
We have signed a very experienced professional in Kelly Smuts. He is a proven player in English conditions and someone I think will integrate well with all our members."
The Lancashire League is changing this year. What's your take on it?
"I'm personally delighted that the league have worked towards strengthening our league cricketing structure. Mike Bibby and his committee have worked extremely hard over the past few years to maintain the Lancashire League as one of the best leagues in the country. Hopefully, their hard work will come to fruition very soon. I'm looking forward to welcoming the new clubs to Todmorden over the next few years."
Who are your contenders for the titles this year, in light of all the changes?
"I can't see past Ramsbottom this season to be honest. They have some top players backed by a top class professional. I also expect Burnley and Lowerhouse to be strong too. Hopefully Andrew can get our boys in the mix."
Quick Fire Section
Everyone has their own but who's been your favourite pro?
"Daniel Marsh was my favourite pro! He had 2 seasons with us, in 1996 and 2000. It was the 2000 season with him as pro and Nigel Hunter as captain that most of the players of my time remember. Not only because this was the last time the first team won the Worsley Cup but most of us don't know how we kept our jobs after Nigel's now legendary Sunday evening sessions in the bar.
Daniel and his now wife Joe joined in with everything while Nigel was followed by everyone on & off the pitch. His bank account took a hammering that season!"
Favourite moment on a cricket field?
"My favourite ever moment on a cricket field, from a club point of view, was when we won the Worsley Cup against our old foes Haslingden. They hammered us in the 1994 final and I'm pleased to say we got our revenge in 2000.
My personal favourite was the 2008 Worsley Cup Semi Final when I scored 79no v Ramsbottom. A couple of their players were organising the after match activities when I walked in to bat, no doubt expecting a quick kill but, with the help of Ted Whitehead and Mo Bux, we got over the line. That was the best feeling I ever had on a cricket field."
Best amateur player?
"Richard Baigent was the best I played with, some of the shots he played were first class. He could pace an innings and he knew how to wait for a bad ball."
Best performance you've seen in a TCC shirt?
"The best performance I've seen from a Todmorden player was Simon Newbitt against Burnley in 2003. He had only been with us a few weeks and a few people were asking how he had "walked" straight into the team but chasing 180 he banged out 116. I feel that innings really put him on the map as a Todmorden player."
Favourite player in the current side?
"They are all my favourites!"
Apart from Centre Vale, favourite Lancs League ground?
"I've always enjoyed going to Bacup, as it wasn't too far to get home from after a few pints."
If you could change one rule in cricket, what would it be?
"In relation to the LL, I would play all matches in coloured clothing and use white balls."
"Anyway, here's to a great summer for all the clubs in the Lancashire League. We at Todmorden look forward to welcoming "new" and old friends to Centre Vale."
Thank you for your time, Mark. Much appreciated.
Next week, The Skipper......
Follow the site to get the latest news and results straight to your email
Next Match
JW Lees Lancashire League
28/07/18 01:00 PM