Todmorden Cricket Club

Todmorden Cricket Club
Est. 1837
News Report
Welcome, Kelly.
Author: Todmorden CC, 26/03/17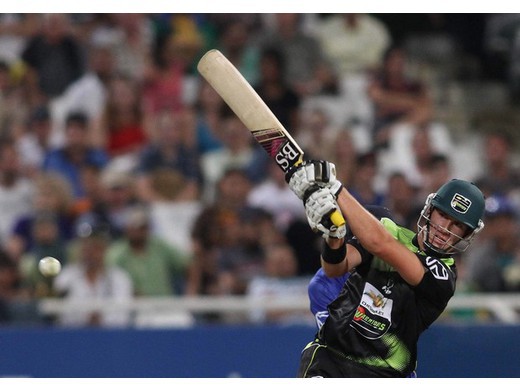 You have been playing for Eastern Province and The Warriors this year. How has your season been?
"The season hasn't been one of my best stats wise. I had a slow start to the season and just when I started to hit some form I broke my thumb. That caused me to miss a lot of matches which was frustrating. But it's great to be back in the Warriors team – a call-up that I wasn't expecting!"
Your brother got the call up for South African T20 side, that must have been a very proud moment for the family….
"Yes it was an extremely proud moment for our family. He has put in a lot of good performances for the Warriors in the last few seasons, so the call-up for him was the ultimate reward for that."
Moving on to all things TCC. We have obviously met you before, we must have made a decent impression!
"Yes I have played one game for the club before and it turned out to be a memorable match, even though we narrowly lost. The ground is fantastic and for a club to have a top-notch field like that it gives me the impression that it is a club worth playing for. I enjoyed the spirit of the players and it definitely played a part in luring me to the club."
Do you have any expectations for the season? Anything you want to instil on the playing group?
"Coming from a home season of not playing a lot of cricket, I feel fresh and keen to hit the ground running. What I want to instil in the team is hard work and leaving everything out on the field. As a team I want us to eliminate the fear of failure and give our best.
If we come up short, at least we can hold our heads up high by saying we gave it everything. That is when we start improving as a team.
If we do that this season then I feel that a trophy is not out of reach."
You will be coming up against a former club in Rishton, have you had any banter from former team mates?
"I haven't had any banter as yet but I'm sure when we meet on the field there will be a few words uttered haha!"
Similarly, there seems to be a large contingent of South African pros in the league, who's going to be the ones to watch?
"As always seems to be the case, a lot of South Africans enjoy the Lancashire League. There are a lot of good players from the bunch this year, but I feel that Grant Thomson could be the one to watch out for – a really good batsman and seam bowling that will suit the English conditions."
Obviously the League is having a bit of shake up this year. What's your take on the situation?
"It is definitely going to be interesting with some new teams in the league this year. From my knowledge the league is hoping to bring in promotion and relegation and I think this will only strengthen the league as it will mean that there is meaning to every game right up until the last weekend of the season."
Contenders for the Titles this year?
"Having been out of league for a season, my guess probably isn't as good as others but I would say that defending champions Ramsbottom should be up there. Yes, losing Daryn Smit is a big loss but they have a good replacement in Grant Thomson. I'm sure Burnley will be up there and I don't think we'll be far off either."
Quick Fire Section
Favourite cricketing memory?
"Last season in a 3-day game for Eastern Province I set a world record by taking 13 for 71 and scoring a century. It was a game where everything just went my way and that is a great feeling."
Favourite moment on any cricket field?
"Same as above!"
Best amateur player you have seen in the Lancs League?
"Definitely Vishal Tripathi and Adam Bracewell. Both are really good batsmen who have simple techniques and put the bowlers under pressure by making sure they put the bad ball away to the boundary."
Best performance you've seen in the Lancs League?
"When I played for Rishton in 2015 against Enfield, Adam Bracewell got 130-odd against us in no time. He just smashed our bowlers to all parts of the ground."
Apart from Centre Vale, what is your favourite Lancs League ground?
"Centre Vale is by far my favourite! After that I would probably say Rawtenstall."
If you could change one rule in cricket, what would it be?
"Hmmm….that's a tough one. I'd probably bring in the rule of a double play. Meaning that you can get 2 wickets off 1 ball by taking a catch and then running out the other batsman. That would definitely make things interesting!"
Thanks for your time, Kelly. See you in 3 weeks!
Next week....Ashton Turner.

Follow the site to get the latest news and results straight to your email
Next Match
Pre-Season Friendlies
13/04/19 13:00